How to Move a Christmas Tree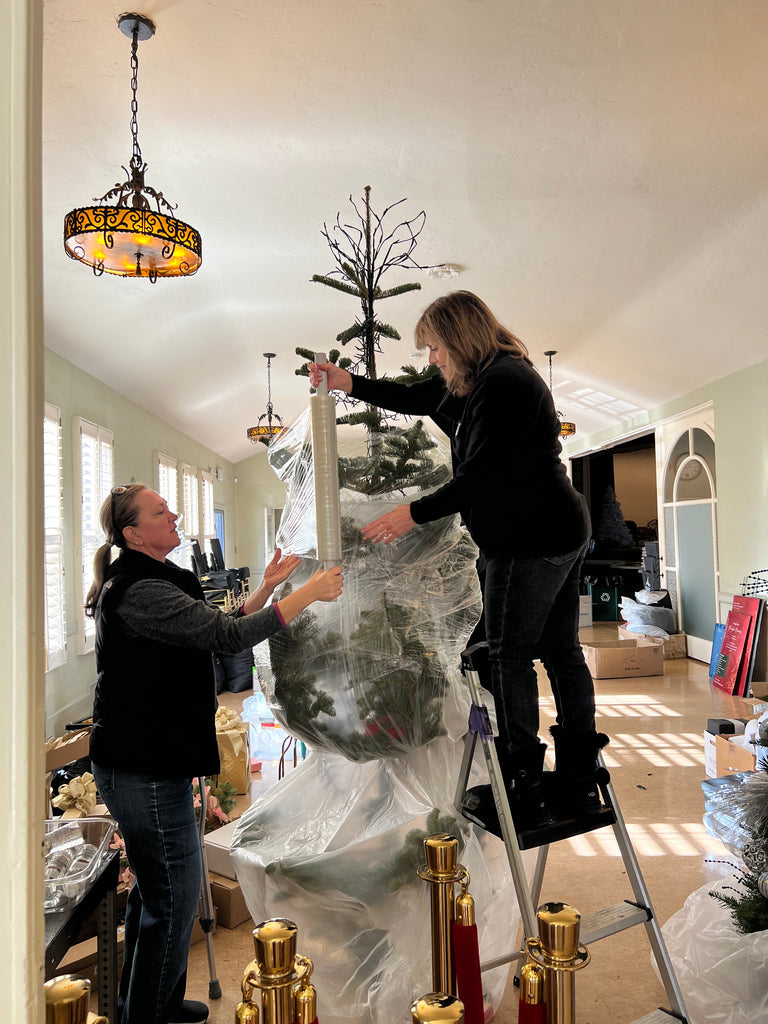 How to Move a Christmas Tree                                                                                                                            
by Christiane M. Franke                                                                 
In our last post we talked about our tree for the Valle Monte Christmas Tree Elegance fundraiser. Well, we have good news! Our tree, Bubbles and Giggles, was won by the lovely Laura from Saratoga to decorate her home for the holiday season. And so we came together on Sunday morning to help facilitate the move between the San Jose Women's League and the Family Home.
But how does one move a fully-decorated Christmas tree, with all of its surrounding decor, from one building to another? In a word, carefully. One needs grace, guts, glamour…and a couple of Big Strong Guys don't hurt, either! 
As you can see, this tree is well-dressed in holiday finery, surrounded by golden vases and a beautiful mirror. All of this must be packed carefully away for safe shipment to its new home. First, the mirror, perhaps the most delicate part of the process. Moving a mirror is always tricky, and not just because breaking it potentially causes seven years' bad luck! A good mirror, well placed, can enliven a space and add depth to even the smallest rooms. So the mirror was carefully wrapped up and placed in our van ready for delivery to its new home. 
Next, the tree itself. Each ornament was carefully removed, wrapped, and placed in a box for the safest of journeys, the lights were carefully coiled and put away, and finally the tree itself carried out to the van for its final journey to its new home. There is always something sorrowful about dismantling a Christmas tree, but luckily, this time it was only temporary! 
The real fun begins (as we all know) when you bring your Christmas tree home. Having a freshly cut tree in one's house is magical, whimsical, an object of great comfort and beauty. And bringing Bubbles and Giggles into Laura's home was nothing short of a party! A couple of friends showed up to help Laura carry in and assemble her new tree. And not only them: Stems's very own Diana Rasta, who created Bubbles and Giggles in the first place, was on hand to make sure that there wasn't a branch missing or a bauble out of place. With her experiences working with interior designers and a lifetime in floristry, Diana beautifully arranged Bubbles and Giggles in Laura's lovely living room, offering tips for mirror and furniture placement to give the best warm feelings during the holiday season. She and Laura had such a good time arranging the room that Laura's friends joked that they had been called to set up a Christmas tree and stayed to rearrange the entire room! But that is the magic of the season: bringing friends and family together to make something beautiful.